Promotions
Happy Canadian Thanksgiving and Columbus Day!
Join My Poker this long weekend to celebrate Canadian Thanksgiving and Columbus Day.
On Sunday October 11th to Monday October 12th 2020 EDT you will receive 50% MORE credits on purchased credits!
---
Halloween Room
From now until the end of October, My Poker has opened up a bingo room, the Halloween Room. You will be able to enjoy many themed 75 Ball patterns such as pumpkins, ghosts, brooms, and many more.
Everyday at 12:00 am there will be a 3,000 Credit Guaranteed Prize! Also, the bingo leaderboard and in game auto-buy will be available to all players!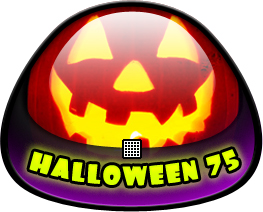 Click on the pumpkin to view the bingo rooms
The Halloween room offers multiple jackpots during the Full Card game. Sometimes, it can take a long time for jackpots to go out. We know you can get impatient, so we've introduced the Jackpot Mod feature. When Jackpot Mod is active, a jackpot will get easier to win and will reset once it has been won. The Minor Jackpot in the Halloween room will be modified to get easier to win once every 5 days until it is won.
We have also activated Card offers on the Jackpot games in the Halloween room. All users will get an offer of a free card when they buy 6 cards. VIP Users will be treated with even better card offers. (Note: cards must be purchased together)

As you may be aware, older versions of software that are using Adobe Flash will no longer be supported after December 2020. In order to continue to deliver new features we have released our new bingo platform. Promotional rooms, including the Halloween room, are only accessible in the current version of the Bingo software and are NOT be accessible from the Classic Mode